Automatic Vertical Insulating Glass Production Line with Gas Filling
Automatic Vertical Insulating Glass production line can do double glass,triple glass and stepped glass.As the most important process of insulating glass production, we are especially professional in glass cleaning, transmitting pressing and gas filling(optional).
Main Features:
• Adopt SIEMENS control system, keep stable performance
• PLC control system, touch screen interface
• Automatically adjust the depth of glue with digital display
• Using servo to control system, modular function, superposition function
• Applicable to produce stepped IG, triple IG and shaped IG
• Two pieces of IGU can be made and filled with argon gas in one time (Optional)
• Min & Max glass sizes can be optional
• Glass washing part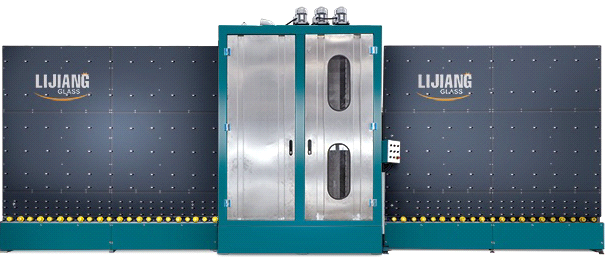 Main feature:
• Using 6 pieces of soft brushes
• Wash online and offline low-e glass, automatically recognizes Low-e film
• Washing part adopts the design of upper and lower layered structure
• Adopt variable frequency fan, energy efficient, good cleaning effect
• The air knife can automatically adjust the width of the air knife according to the thickness
• Using intelligent intermittent energy-saving working methods
• Hierarchical type washing system
• Water tank automatic temperature control, water replenishing system
• European silencer system
• 304 stainless steel materials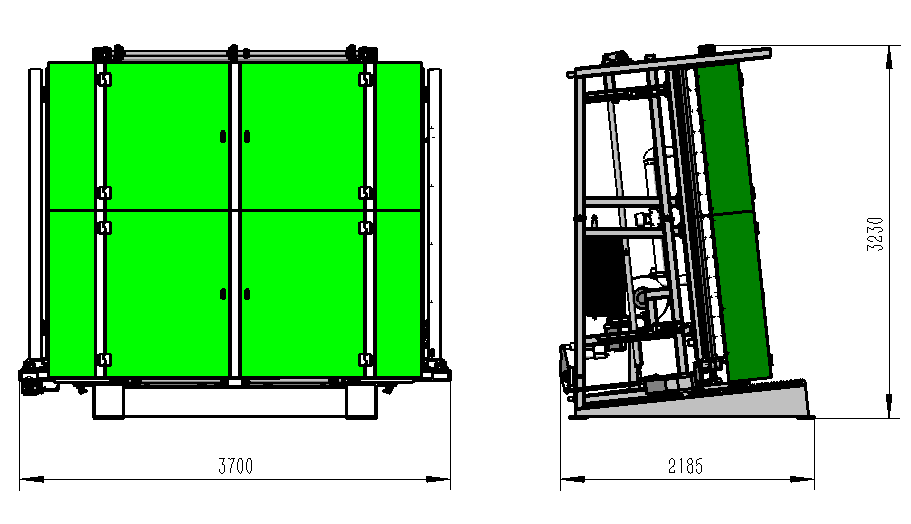 Main feature:
• Ultra-long insulating glass can be compressed with second times
• The machine adopts servo torque to pressing glass
• The pressing plate with adjustable screws to guarantee long-lasting
high-precision tablet
• Equipped with a precisely adjustable front platen mechanism
• The system can diagnose fault information
• The pressing plate can be opened to 400mm width for easy maintenance
• Applicable to produce four-side step IG, triple IG and shaped IG
Filling argon gas automatically
• Automatically filling argon gas inside the pressing plate with precise gas
concentration
• When filling shaped IG, inflatable front side of the rectangular size required
450mm (length), 280mm (high)
• No need to drill holes in spacer frame
• Standard gas is Argon gas
• Fast reacting sensor for permanent control of gas filling process
• Automatically set gas data and display data on the screen

Features
• Two pieces of IGU could be pressed and filled gas in once time, each IGU
could fill argon gas over 90%.
• Can be better prevented the pressing part to be out of shape by pressing
two pieces of IGU in once time.
• High-speed IG processing line
• Solving the problem of waiting for working on the sealing robot. Improve
work efficiency highly.
• Installing two spacer frames for two IGU by one workman.
• Automatically measuring glass size and labeling (labeling can be allowed
before pressing and after pressing) with ERP system.
• From transfer part to pressing part, each part is divided.
• Suitable for mass production in a factory, Ultra-fast speed.
Technical data
| | |
| --- | --- |
| Max. glass size | 2500mm*3500mm |
| Min. glass size | 280mm*400mm |
| Glass thickness | 3-15mm / 19mm |
| Insulating glass thickness | 50mm / 60mm |
| Glass washing speed | 2-10m/min |
| Glass conveyor speed | 45m/min |
| Washing brushes | 3 pairs |
| Water supply | Water consumption:0.5t/h conductivity:40μs/cm |
| Air supply | Flow: 0.8m/min |
| Air pressure | ≥0.8MPa |
| Total power | 3P 380V 50HZ 40KW |
| Dimension | 23500*3500*3700mm |
| Weight | 6500kg |